The VISION Retail Platform seamlessly connects tags, sensors, gateways, and videos to deliver actionable insight on all aspects of inventory management and customer engagement by leveraging the power of data and utilizing RFID technology. Vision consisted of three parts: The sales Associate app, Smart Fitting Room, and the Management Console.

Agency: Sato Global
Role: Product Designer
Year: 2017-2018

Collaborators: Jesus Rivera & Svetlana Sidorovskaya
---
Analytics Dashboard
The analytics dashboard allows managers and admins to quickly see and control how many open, closed, or ongoing tasks are present, the total items available or sold, and each item's location across all locations.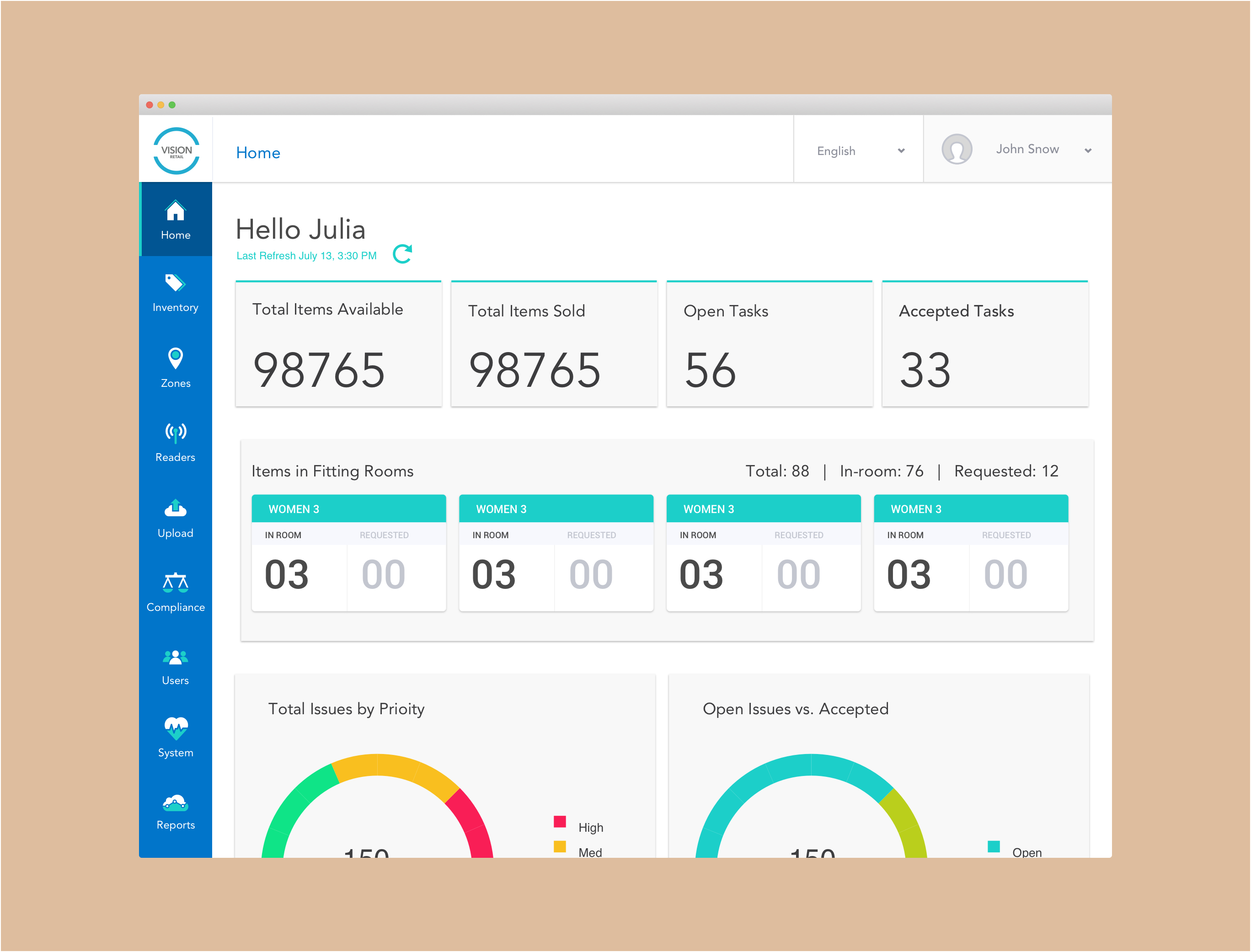 Inventory

The inventory page grants managers access and control of viewing, locating, and retrieving items within their inventory with robust metadata.

User management console
With the user management console, administrators can supervise and manage numerous tasks their employees have active and redirect their jobs more efficiently.

RFID zones tag reader
For the zones to work correctly, clients need to identify, control, and locate readers wherever they are within the space at a moment's notice.


Account personalization
Because Vision is a b2b product, we know it is essential for businesses to customize the app as they see fit; this includes changing themes and uploading a logo.


Sales associate app
Retail associates actively working with customers on the floor are updated with client requests from the fitting rooms. From their phones, they can view all tasks, accept new ones, and view any ongoing tasks.

Design system
To maintain consistency and speed up the design and development process across all supported platforms and devices, I was responsible for maintaining, and further developing the design system patterns


---